SGH Service GmbH
SGH Service GmbH is a leading provider of full-service outsourcing in accounting. Founded in 1990, the company specialises in automated invoice processing, electronic invoice exchange, accounting services and technical central regulation. The service provider serves cross-sector customers from industry, trade and services as well as from association groups.
25 years of experience make SGH a trustworthy expert: A unique combination of accounting expertise and technical system knowledge as well as comprehensive practical know-how in the transfer and implementation of document and data-based administration processes ensure a sustainable streamlining of financial processes. The goal: Freedom for the essentials.
Among other things, SGH offers customers complete processing of their incoming and outgoing invoices. On the vendor side, the company processes both paper-based and electronic incoming invoices.
The service provider supports invoice recipients in converting suppliers to electronic invoice exchange. The aim is to use a supporting roll-out campaign to actively convert these suppliers from sending paper documents to electronic input formats.
On the accounts receivable side, SGH provides solutions for the automatic dispatch of tax-compliant electronic invoices as well as the industrial production and dispatch of paper-based documents.
By outsourcing the technical handling of central settlement to SGH, the association groups gain the necessary entrepreneurial freedom. The individual service modules of the service provider contribute to the fact that the association groups can concentrate more on their core business.
SGH offers high-quality management, organizational and process consulting that focuses on the analysis and definition of your outsourcing potential. SGH's experts provide comprehensive advice on strategic decisions and develop tailor-made concepts - across industries, analytically and internationally.
In addition, SGH provides to you:
well thought-out solutions in finance and accounting

Business process outsourcing of accounting services

Acceptance of complete process chains or subtasks

including account management and payment processing in automated, electronic workflow systems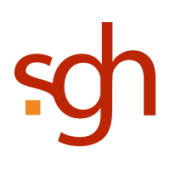 SGH Service GmbH
Daimlerring 51
31135 Hildesheim
Germany